We travelled by 4x4 from our hotel to Auburge Dunes D'Or. The road was good for about 6 KM and then we were off the road for about another 20 km. The Auberge is about 12 KM from the town of Merzouga.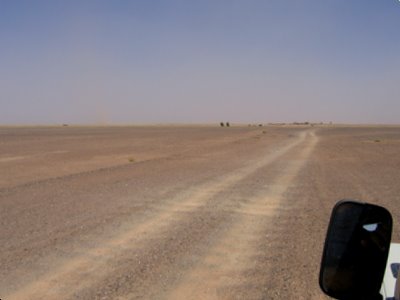 We arrived at about 2:30pm and it was decided that it was too hot to leave right away and we would leave at about 5:30pm.
We basically just rested in the Auberge for 3 hours which was nice and cool.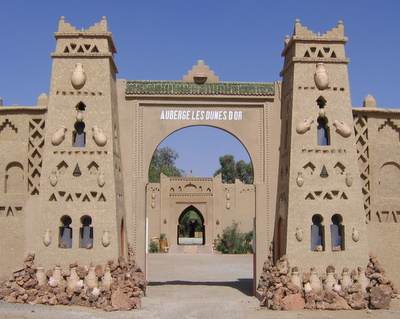 As the time approached Pam was getting nervous, she did not like the idea of being on a camel.
When the time came we went outside and met our camels and then we were on them. No messing around.  We were very lucky as there was only Pam and I on our trip. So it was like our private journey.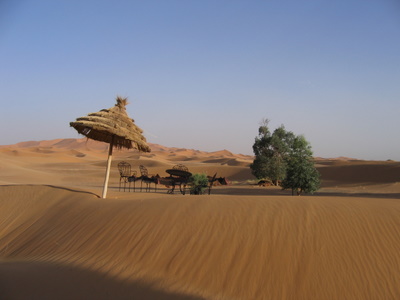 It is quite easy to get on the camel, just sit on the seat, but when it gets up it is another story.
The camels front legs move a bit then his back legs go up so you end up facing and leaning down holding on hard, then his front legs come up and you are horizontal and ready for walking.
The Camelier, Mohab (person who leads the camel) walks the whole time; he walked with bare feet and did not worry about anything biting him.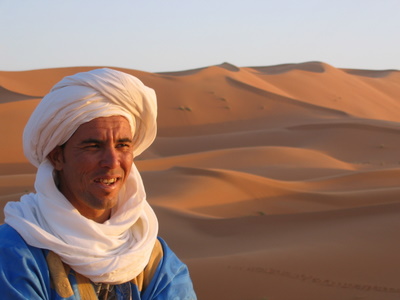 We leisurely strolled over the many dunes, the camelier walk taking the easiest route for the camels so there are not too many rises and falls, but there are still a lot of these, maybe it is for the people on the camels?
The dunes were very beautiful at that time of day and especially as the sun was setting at about 7pm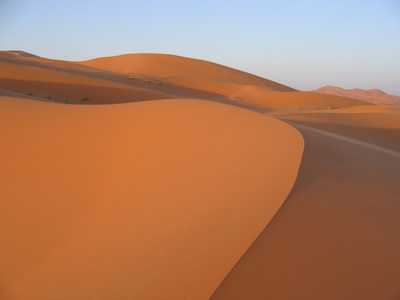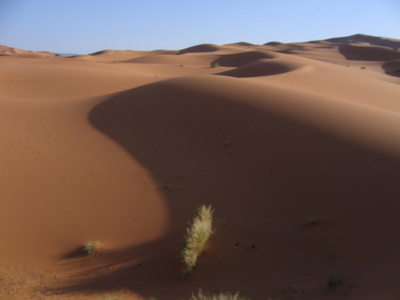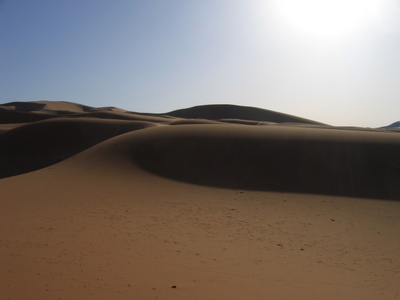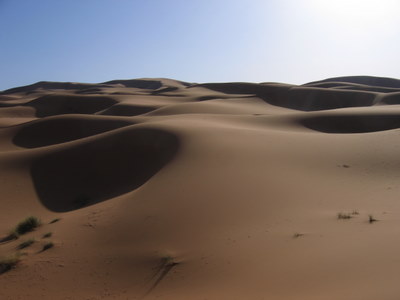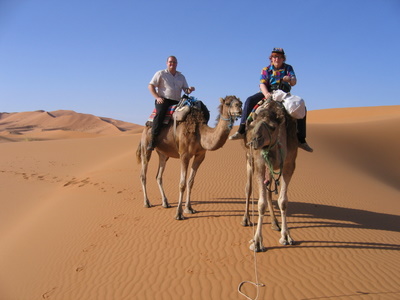 I was taking a lot of photos so hopefully we will end up with some nice shots. Pam was holding on for grim death and had bruises to show for it.
Just before sunset we got off our camels to watch the sun come down, it was truly a wonderful sight.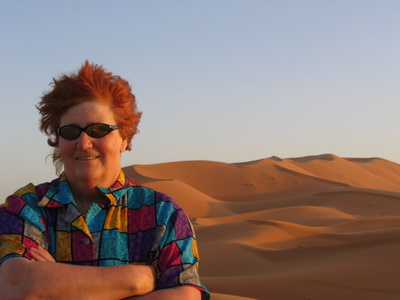 Pam was moaning, she wanted to get going before the sun set, but did not want to get back on the camel, did not want to walk, did not want to be out in the dark.  So we waited until the sun set ( I came 1/2 way round the world to see this).
We then got back on our camels, and Pam held on for grim death again.
I was quite relaxed on my camel, just being cautious when going down a dune as you are forced to the front of the camel, and the camel often sinks into the sand a wee bit when doing downhill.
I pulled out my MP3 player and started listening to some low groove music, and just really enjoyed the moment.
After about 25 minutes we came to the site with Tents, the sky was nearly dark now and we got off our camels.
There was a square of small tents, not very high, maybe 3 feet or so with a clearing, the centre about 20 feet x 20 feet.
Mohab bought out mats and placed them around and placed a table in the middle. It was now very dark and a kerosene lamp was bought out. It provided a nice ambient light around us.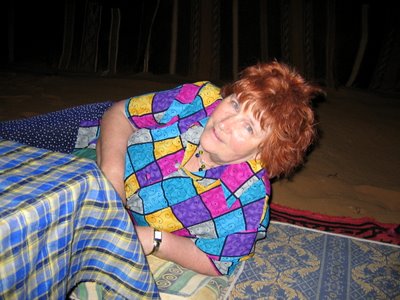 About 30 minutes later we were eating bread and a tajine and berber whisky (mint tea) that Mohab had made for us.
There were no knives or forks, we were eating berber style, with our fingers.
You rip some bread off and use it to scoop up the food, there were two rules
No visiting your neighbours food
No double dipping with your bread
We finished up with slices of melon and oranges.
After dinner we were asked if we wanted to sleep in the tent or under the stars. We choose the stars. They removed the table and placed 4 mattresses 2x2 down and put a sheet down, and 5 large blankets on top.
It was very nice, sleeping under the stars, the only problem was the moon was out so you did not see as many stars as if the moon was not showing.
A very nice ending to a great day looking up at the stars and moon.