We had an early start at 5:45am to transfer from the Hotel to the airport and then onto Colombo, Sri Lanka.

Since we missed on dinner last night we decided to have have something for breakfast at the airport. The food court looked good but delivered a bit less although not too bad in the end.



This time we flew Silk Airways (the Singapore Airlines regional Airline) which is a bit of a cut down version of Singapore Airlines.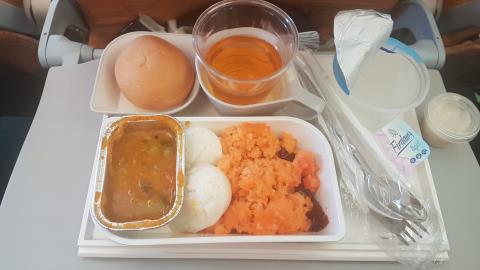 The food on board was tasty but also a bit more minimal.

Apon arrival Immigration was very simple and we were through in about 2 minutes from arriving at the counter.

We then waited for a quite a while for our bags to show on the the bag carousal, but then were told to use a different carousal.

We had booked a driver to drive us to Ella from Colombo and their representative was waiting with our names on a board at the arrivals area.

Pam went to the ATM to get some cash, since the hotels require cash for payment. For some reason she took out 7000 Sri Lankin Rupees. This is the equivalent of about $70 NZD.

So next we took out 60,000 Rupees in order to pay for our hotel.

I bought a SIM Card with 5GB of data and "more" phone minutes for 1000 rupees.

We were then on our way to Ella, it took a bit more than 6 hours to get there. Also most villages just seemed to merge into the next village for the first 4 hours. The roads are of good quality, but for the first part of the journey about 3-4 hours the roads are just really busy with traffic everywhere.