As part of choosing the Caymans Pam was always keen to go out to Stingray City and see the stingrays. For someone who dislikes boats unless they are huge and water even more so she said that she would go into the water with the stingrays.
There are lots of companies that will take you out to see the stingrays but after looking at Trip Advisor we choose on Captain Dextor and his FantaSea Tours.
This is a small tour company 2 men – Caption Dextor and his mate Simon.
We booked into an afternoon session a few days earlier and looked forward to getting out there.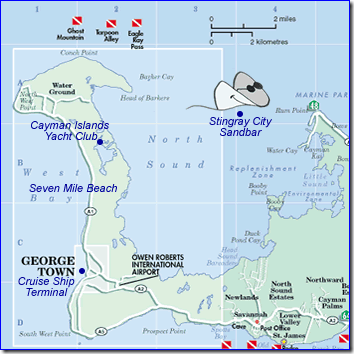 Our condo is about half way between the words "seven mile beach" and "George Town" – we crossed the island and then we were ready to board the boat.
Our catamaran that took us out to stingray city – Pam was not keen when she saw it as she hates boats, especially this one!
Shoes off and we got on with the other 18 people and sat around and powered out to the stingrays.

The small harbour from where we left from.

Past some rather nice homes.
Captain Dextor skippering the boat on our way out to the main water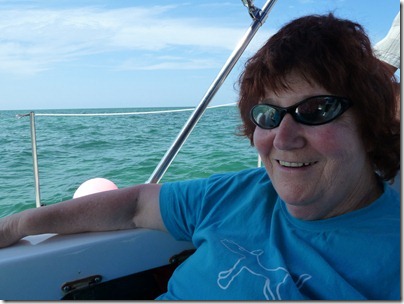 Pam enjoying the trip?
Getting close we see more people and boats – about 8 boats where there when we went out.
A stingray in the water – the water was about 6 –10 feet deep – just off the boat it was shallower about 3 feed deep.
Pam touching a stingray while Captain Dextor holds it for her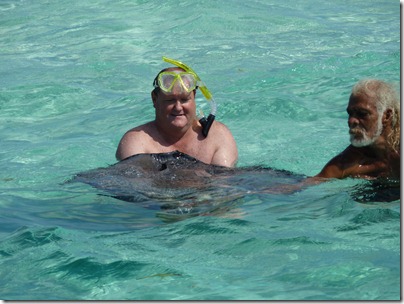 Simon passing a stingray to me to hold – they feel very silky on the underside and a bot rougher on the top side. There eyes are at the top of their heat and their mouth is below their head on the under side. I fed a small piece of squid to one of them.
After this we went to a nearby reef which had a nice selection of corals in the water. I went out there for about 30-40 minutes, Pam relaxed on the boat.
A few different fish species that I had not seen while in the water off 7 mile beach. Quite lovely.
After this they put the sail and we sailed back to port  (well 1/2 way back to port)
A very good afternoon and a wonderful thing to try.
It cost about $35 USD each