A few cocktails in the bar and then dinner in the French Restaurant Chez Isabelle.
Cocktail of the day -  Caribe Esmeralda – Curazao Liqueur, White Rum, Gin, Peach Liqueur, Banana Liqueur and coconut cream.
And a Margareta Up – Tequila, Triple sec, Orange Liqueur and Lime Juice.
A Pina Coloda and a simple Bloody Mary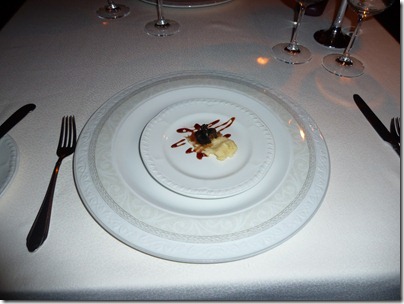 An amuse bouche of Escargot (Snail) – very tender and lovely. I think first or second time I have tried snails.
A starter of Seared Tune and Steak Tar Tar and a duck pate.
Pam had and Duck – the duck had a chinese flavour which I think did not suit a French restaurant.
Seared Mahi Mahi with Rice and Prawns – and Pam finished with a Crème brûlée.
Have I mentioned that I love this all inclusive deal – amazing.
Cost of tonight $0.00