We arrived in Singapore ok. Flight was good – but quite bumpy and it took a different route than normal over Melbourne and Adelaide.
We arrived into Gate B1 which is flight at the terminal 3, we normally arrive in something bad like B29 which is a 10 minute walk to the main terminal area.
Our bags are checked in from Christchurch all the way to Hanoi so that is great. We have stopped at left luggage and we left our two carry on bags there – cost about 3.40 SG for each piece (up to 24 hours).
There was some good tasting in the duty free for single malts so thought I better try a few: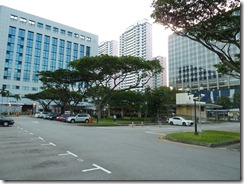 Cardu 12yr
The Singleton 15 yr
Laphroaig 18 yr
Bowmore 21 yr
Glenfarclas 25 yr
I also tried a strange vodka blend which was Absolut with Coffee + Hazel nuts. Quite interesting to keep in the cupboard but not for travelling.
So we then proceeded to immigration to try to get out of the airport. We said we are just going into town for dinner and that was ok. So we went to the train station and bought a couple of tickets into town. They cost about $3.30 SG each, we had about 14 stops to go until the station we wanted to get off at. That is about 40-50 minutes.
Along the way I suggested to Pam that why don't we just get off at the next stop and see what is around?
We did this at a station called Lavender. Not good – nothing there – didn't find any food in 10 minutes so we went back to the station.
We found that our credit was now used up so we had to buy another ticket. We continued on for a few more stops and Pam saw Raffles City so we got off there thinking it was near Raffles Hotel – wrong – that would be City Hall.
So went for a wonder to try to see what food we could find and we found the river quite quickly.
There was a heap of people out there all drinking and smoking – all the restaurants had people outside trying to sell you there menu – you get sick of this after about 30 second, but worse after 30 restaurants.
We decided that we would eat at one that was sort of quiet with a nice view over the river.
We had eaten not too long before arrival (well nibbled since we knew we were going out) so we were not that hungry.
So were offered free wine or beer with our meal so we had a Tiger beer each and ordered 1/2 a peeking duck.
Pretty crappy – 4 out of 10 for the duck pancakes. After the skin was used for the pancakes they just chopped up the duck back in the kitchen and this was nice once you got the bones out of the way. This was $38SG for the duck + 10% Service + 7 % GST so all up about $46 SG in total.
We then went back and found our MRT station and went back to the airport – about 13 stops – getting tired now as this was about 9pm or about 2am NZ Time.
We got back to the airport and went through immigration and found our Transit Hotel.
We were 75 minutes earlier than we booked but luckily we could extend this without any issue even though they were fully booked.
So we ended up with 9 hours in the Transit hotel for about $120 SG
We had shower and a good sleep and then another shower in the morning.
We felt like breakfast so we had Pork Noodles – about $7SG for a Large bowl that we both shared.
We bought some drinks from Duty Free – 2x Bombay Safire (26.90 SG), 1 Russian Standa Vodka (37.50SG) and 1 Absolut Vodka (21.70 SG) – this should last our next 21 days
All good for the flight to Hanoi.