After yesterdays rain we woke to find a stunning day and decided to head to France.
We drove down from Triora to Taggia where we got onto the motorway and headed for France. We paid our last Italian toll 4 Euro 60 cents just before the French border and went through a tunnel and a sign with FRANCE was shown and then everything was in French.
We bought fuel at a fuel station on the edge of the motorway and then found we had to pay a 2 EURO toll at the start of our journey in France. So unlike Italy where you get a ticket and then pay at the end you appear to pay at the start.
We drove into Nice, and found a place to park. We bought a ticket to stay there for 1 hour and left the car and wondered around the local streets – there was not a lot of see since it was just a city.
The prices of food seemed to be quite expensive, a roll with ham + cheese was 4 EURO. Simple meals in restaurants where 12-15 Euro.
We had a look at some fruit shops but the produce looked pretty crappy and old and stuffed.
Pears looked rotten to me and other vegetables did not look inviting at all.
We looked at a could of butcher shops and we ended up buying a rotisserie chicken for 4 Euro 50 cents. And a load of bread for 60 cents.
We went back to the car and looked for somewhere to eat our lunch – the city is quite busy and nowhere to park up so we left town and ended up being behind a tour bus. It was driving quite slowly and then pulled over – we also pulled over and it was a scenic view point (not of Nice) but the next bay around.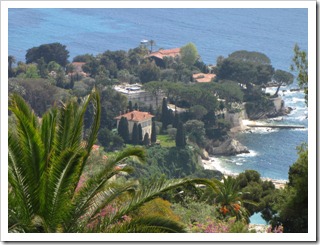 We sat on a park bench and ate our lunch which was very pleasant.
We cleaned up and continued on our journey to Monaco which is only just up the road.
We pulled into Monte Carlo with its steep streets and navigated to a car park building. 2.5 Euro per hour.